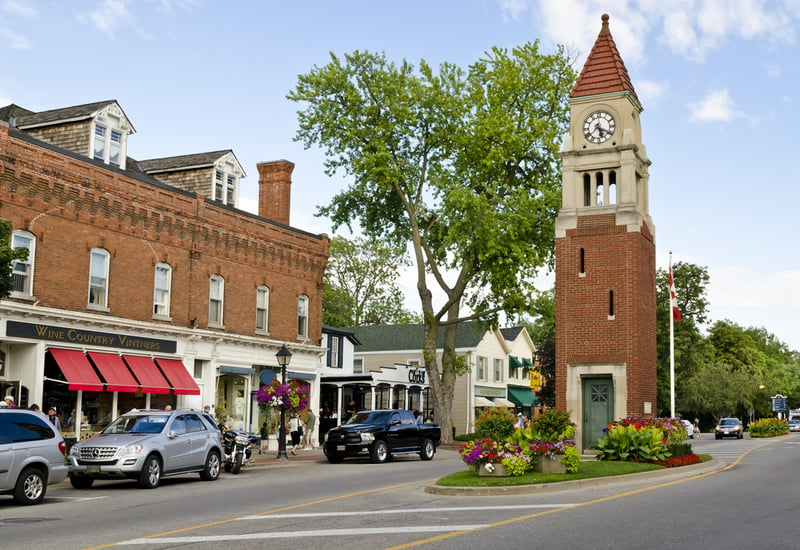 As a part of a new series, I will be providing a market snapshot of the numerous tourism districts located within the Niagara Region. Each district offers a variety of tourist, commercial and hospitality properties.
Niagara-on-the-Lake is one Niagara's most popular tourism destinations. The small town's major tourism centre, Old Town is located in South Niagara, where Lake Ontario and the Niagara River meet. Old Town Niagara-on-the-Lake's main tourist hub is located along Queen Street, but the areas loose boundary encompasses, Front Street to the North, the Niagara Parkway to the East, Centre Street to the South and Simcoe Street to the West.
Old Town is as known as the prettiest town in Canada, as it is for it's rich history. The town's attractions revolve around shopping, history, theatre and wine and culinary.
History of Niagara-on-the-Lake
NOTL was originally known as Butlersburg and later as Newark, when British loyalists fled America and set up a military base in the town. The town was also the first capital of Upper Canada (Ontario) and later became a central part of the War of 1812 as the site of Fort George.
The town first became a tourist destination with the construction of railways in the 1860s-90s. At the beginning of the century the hotel and restaurant landscape started to take shape as new forms of transportation, like Steamship, made it easier for tourists to visit. Historians mark the founding of the Shaw Festival as a major boost for the town's ability to attract tourists.
Major Old Town Tourist Attractions
Shaw Festival

Fort George
Shopping
Whirpool Jetboat Tours
Wine and culinary
Old Town Commercial and Hospitality Properties
There are a number of commercial and hospitality properties in Old Town.
Retail
| | | |
| --- | --- | --- |
| Beau Chapeau | Maple Leaf Fudge | Just Christmas |
| COWS | Irish Design | Scottish Loft |
| Versions | The Romance Collection Gallery | Butterfly Gallery |
| Cecile's Home & Gift | Crabtree & Evelyn | Godel gift |
| Maison Apothecare | Plusios Gift | Presents |
| Serendipity | Ten Thousand Villages | The Viking Shop |
Hotel/Inns
| | | |
| --- | --- | --- |
| King George Inn | Above the Pub | Olde Angel Inn |
| Cantebury Inn | Moffat Inn | The Charles |
| Oban Inn | Shaw Club Hotel | Harbour House Hotel |
| Pillar and Post | Prince of Wales | Queen's Landing |
| Riverbend Inn | | |
Restaurants
| | | |
| --- | --- | --- |
| Corks Winebar & Eater | Old Angel Inn | HobNob at The Charles |
| Riverbend Restaurant | Tiara Restaurant | Treadwell Farm to Table Cuisine |
| Zees Grill | Bistro Six-One | Epicurean Bistro |
| Shaw Cafe & Wine Bar | Fournos Restaurant | Irish Tea Room |
| Kitchen76 | Ginger Restaurant | Niagara-on-the-Lake Golf Club |
| Stagecoach Family Restaurant | Irish Harp Pub | |
Old Town is just a portion of Niagara-on-the-Lake's tourist draw, the small village largely benefits from tourist interest in local wineries, breweries, golf courses and Niagara Falls.
To have an appraisal completed on your hospitality or tourism commercial property, connect with a Niagara appraiser below.